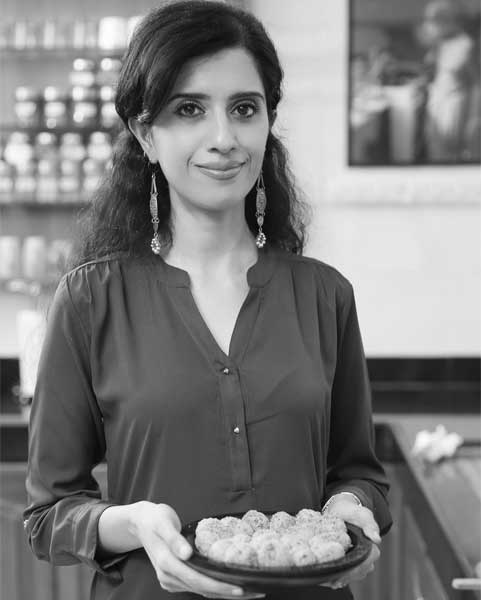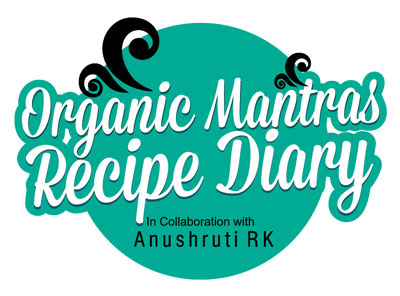 Meet Anushruti RK, recipe developer, food writer and photographer based in Mumbai, specializing in pure vegetarian and sattvik recipes. Divinetaste is a catalogue of her quest for simple and exotic pleasures in food that lead to tremendous overall wellbeing with simple healthful recipes. Food and aspects relating to it, have always fascinated her, so join 24 Mantra Organic and Anushruti RK as we take you through the world of organic living.
24 Mantra Organic Eggless Dark Chocolate Cake With Chocolate Fudge Icing – from Divine Taste
This beautiful double layer chocolate cake is a fantasy for any chocolate lover. Sweetened to perfection with organic sugar and Topped with a generous sprinkle of the flavourful and crunchy almonds, pistachio and chocolate gratings. The overall combination of the chocolate fudge and the chocolate cake is just divine. You can bake this marvellous cake for birthdays, house warming parties, or any gathering where everyone loves chocolate. We are sure you are already drooling all over this cake, so stop drooling and grab your chef's hat. Try this recipe and tell us how much you loved it.
24 Mantra Organic Masala Bhaat – from Divine Taste
The sublime taste of Masala Bhath and the beautiful aromas it leaves in the house is truly divine. The spices used in this preparation is what is the true essence of the recipe. Goda Masala is very easy to make and it really elevates the taste of the rice and the vegetables that you add. To make this healthy you can add many different types of vegetables of your choice and let us know which one you liked best by leaving us a nice comment. This recipe makes for one of the most gratifying meals so go ahead and try this for a meal next Sunday with your family.
24 Mantra Organic Wholewheat No Yeast No Oven Pizza – from Divine Taste
Who said you need yeast or you need an oven to make a delicious cheesy pizza. I mean what can get better than homemade whole-wheat pizzas, with ingredients that you can find in your house. So if you are looking for a happy little pizza recipe to lighten up your spirits and mood then you can call off your search right away. Once you have a crisp pizza base all you need to do is assemble the rest of the ingredients. You can start by spreading the tomato sauce, then sprinkle some chopped bell peppers, olives and a generous shower of mozzarella cheese, and finally spoon a few drops of oil on the sides, cover the pizza and cook until the cheese melts. Viola, in a matter of a couple of simple and easy to follow steps, your whole wheat, no yeast and no oven pizza is ready to be devoured.
24 Mantra Organic Vegetable Thalipeeth – from Divine Taste
Here is a traditional Maharashtrian recipe made with 4 types of flours. A nutritious pancake made with different kinds of flours, making it delicious and more importantly nutritious also. You can add vegetables of your choice to make it more nutritious. The Vegetables used In this recipe are carrots, cucumbers, pumpkin or bottle gourd and the results have been superb. Pair it with some homemade curd and some spicy red chili chutney called ranjak or kempu chutney for the most satisfying experience. You can also choose to have it with some Mango Chutny or some amla chutney as well. Try this recipe today and do let us know how much your friends and family loved it.
24 Mantra Organic Vegetable Kofta Balls In Tomato Sauce – from Divine Taste
Spaghetti and meatballs a traditional Italian recipe that vegetarians can't enjoy. Well think again, this recipe just got a vegetarian twist to it. These vegetarian kofta balls in tomato sauce is an amazing dish that can be had with spaghetti. The gram flour in the kofta balls is protein rich and the vegetables add many nutrients to them. These kofta balls are quite versatile. You can fold them into any curry or sauce of your choice or even dunk them into a kadhi to eat with rice. try out this beautiful recipe today and tell us how much you enjoyed it.
24 Mantra Organic Kala Channa Pulao – from Divine Taste
Want to add some protein and carbs in your diet, then we've got just the recipe you are looking for. Kala channa or brown channa is a very good source of protein especially for a vegetarian and let's not forget that organic basmati rice is an excellent source of carbohydrates. What makes this recipe even more spectacular is the simplicity with which it can be made and how exquisite it actually tastes. The soothing taste of this recipe can be attributed to the organic spices used to prepare this dish.Pair it with a nice pomegranate raita and make it one of the most satisfying meals ever. Go ahead try this recipe today, it's extremely easy to make and we are sure that your whole family will love it.
24 Mantra Organic Panchmel Dal – from My Divine Taste
A true Rajasthani would tell you that Panchmel Dal is best had with Freshly roasted Bhati, and they would be right, there would be no better combo. The aroma of this beautiful, healthy and homely dal is truly mesmerizing. the texture and the consistency of a dal are what differentiates a mediocre dal from a delightful mouthwatering delicacy. So pay close attention when you are making the dish. You can even have this beautiful dish with some perfectly cooked basmati rice with just a drizzle of glee for a little indulgence. Don't forget to try out and tell us how much you loved this marvelous recipe.
24 Mantra Organic Eggless whole wheat ginger cookies – from My Divine Taste
Experience the journey that inspired the creation of these delicious cookies. You can welcome Santa this season with this mouthwatering heavenly cookie recipe that will make sure that he will visit your house first next Christmas. And Santa's gonna be a lot healthier with these cookies because they are loaded with the goodness of organic whole wheat, unprocessed organic sugar and lets not forgot about the ginger. Pair these yummy cookies with some milk and relish each crisp, soft, sugary bite that you take. Enjoy these yummy cookies with your family and friends this Christmas.
24 Mantra Organic Vegetarian Burritos – from My Divine Taste
When you really think about it Mexican food and Indian food are very similar, The Mexicans have the Tortillas and we have our roti,they stuff their tortillas with protein-filled beans and veggies, we have our rotis with sabji. And let us all face the fact that both cultures love their spice. Both cuisines are so similar that a dish from Mehico can very well be a super replacement for your day in day out Indian Ghar ka khana. But really think about it, it's extremely easy to make, we are sure that your kids will not waste a morsel of it because you will tell them it's a Mexican dish. They will love it and you will be satisfied because of the fact that it is filled with so much nutrition. That is literally like a win win for us all. So try out this recipe today and tell us how much you loved it.
24 Mantra Organic Turmeric Hummus With Sumac Roasted Vegetables And Black Pepper Rice – from My Divine Taste
This soft, buttery and extremely nutritious middle eastern dip is something that some of us have had the good fortune to taste. Paired with pita bread it makes for one of the most authentic Lebanese dishes ever. But have you tried it with some sumac roasted vegetables and some black pepper rice?
This dish presented by Anushruti RK is truly exquisite and is a spectacular addition to our Organic Mantras Recipe Diary.
The spice of the Black Pepper, the flavour of the Turmeric, the smokiness of the roasted vegetables and the creaminess of the Hummus, need I say more. Don't miss out on this recipe. Try it out today!
24 Mantra Organic Wholewheat Fruit and Nut Cupcakes With Honey Icing – from Divine Taste
We are sure of thing, and we know for a fact that you wouldn't disagree to the fact that these fruit and nut cupcakes are to die for. The taste of the cashews, almonds and raisins in every bite with the beautiful texture of the soft spongy moist cake creating a flavour so wonderful that you get lost in time till you finish every morsel. The honey icing seeps into the cupcake and merges with it nicely, giving the cupcakes a fruity flavor and earthy taste.
So its time for you to try this recipe out for Christmas and enjoy this with your family and friends.
24 Mantra Organic Pakoda Kadhi With Plain Basmati Rice – from Divine Taste
To anyone who has had the luck of tasting a pakoda, the very mention of it makes the mouth water. And when made with organic ingredients the taste is enhanced, it is good for your body and also for the earth and environment. This Pakoda Kadhi recipe is best paired with plain basmati rice and can definitely be one of the most sumptuous and well balanced meals that you may have eaten. You can Enjoy these pakodas with your afternoon or evening drink or relish them dunked in the kadhi, whichever suits your style. So don't waste any more time, head to your kitchen and try out this amazing recipe today.
24 Mantra Organic Little Millet Dosa With Pudina Chutney – from Divine Taste
Ask any South Indian food lover, what their favorite breakfast dish is, and we are sure that "Dosa" will definitely feature on that list. But have ever tried a millet dosa? Not only is this a healthy option but the combination of a millet dosa and Pudina chutney is truly spectacular.
So now you can be rest assured that you will be eating something extremely tasty without forgoing the health and nutrition benefits.
So try it out today and tell us what you think of this awesome Little Millet Dosa recipe.
24 Mantra Organic Sesame Rice With Cashews – from Divine Taste
"24 mantra organic sona masuri rice one of my most favorite varieties of rice" Says Anushruti RK.
Dont miss out on this easy to make superb dish and let your taste buds take you back to your childhood in your grandmothers kitchen where everything tasted link heaven. Witness the creation of an exquisite south Indian meal that you can never forget. Have this with cucumber or tomato raita, it becomes a hearty meal that is sure to appease your palate.
24 Mantra Organic Puri – from Divine Taste
If there is anyone who can teach the world how to make the perfect puri then it can only be Anushruti RK. Puris that don't deflate and retain their shape from the frying pan to the plate. With some of the most amazing tips to roll the perfect puris, this article can clearly become your guide book to making the yummiest and fluffiest balls of heaven. Partnering them with shrikhand or aamras makes for one of the most delicious treats you can ever imagine. Tell us what you like to have with your yummy, fluffy, healthy 24 Mantra Organic Puris?
24 Mantra Organic Saviyan Kheer – from Divine Taste
Here is a fantastic dish that all of you must try out this festive season. It is simple, sweet, and can bring a smile on anyone's face. The best part of this dish is that it can be served hot of cold based on your preference. Seviyan kheer with milk, sugar, cardamom and saffron packed with a whole lot of organic goodness is not something that you can afford to miss. So don't waste any more time, just click on the link below and try out this beautiful dish. And remember to tell us the different variations of the dish that you tried at home.