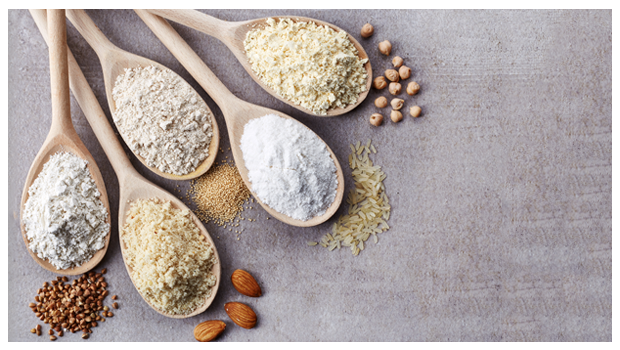 We have all heard the myths, and some facts, about the possible health benefits of a gluten-free diet. And while it may be a big a step for many to completely eliminate gluten from their daily diet, it is possible to cut down on the gluten intake considerably without compromising the nutritional requirements. The best way to do this is to go for gluten-free flour.
Here are 6 reasons why you should do it.
   Avoid the Allergies
Not everyone is completely intolerant to gluten, but a lot of people have allergic reactions to this protein. And it's hard to know if you are one of them. So why not be on the safe side, and avoid gluten as much as possible?
   Good for Digestive Health
Millets like jowar, bajra, and ragi are some of the most common choices for gluten-free flour. Not only do these add variety to your daily diet, but are also very light and easy to digest.
   No Bloating, Cramping or Diarrhea
Gluten grains like wheat, rye, and barley contain oligosaccharides which are easily fermented by intestinal bacteria. Gluten-free flour means no oligosaccharides, no fermentation, and no bloating, cramping, or diarrhea.
   Helps with Chronic Gastrointestinal Disorder
Opting for gluten-free flour is a no-brainer if you frequently suffer from Irritable Bowel Syndrome. It won't cure the disease, but will definitely help reduce the occurrence of IBS.
   Guard against Celiac Disease
Celiac Disease is a serious autoimmune disorder. Not only are the patients unable to digest gluten at all, but eventually the gluten buildup also starts damaging the small intestine. Even with all the medical advancement, the majority of cases with Celiac Disease go undiagnosed. It's not possible to go get tested for every disease out there, but it is possible to avoid harmful dietary habits.
   Say No to Bleached, Processed Flour
Majority of commercially available white flours are bleached and contain artificial additives. Why not ditch these, and instead go for organic gluten-free flours that are a lot healthier?
It's hard to change our dietary habits overnight, but making even one small change a day can go a long way in promoting a healthier lifestyle. Can't give up wheat flour completely? Go for organic whole wheat flour instead of white flour then, a low gluten option. Start having millets on alternate days. Commit to one small change at a time.
Explore 200+ tasty and nutritious ways in which 24 Mantra can help you to #GoOrganic. Choose organic, choose healthy!