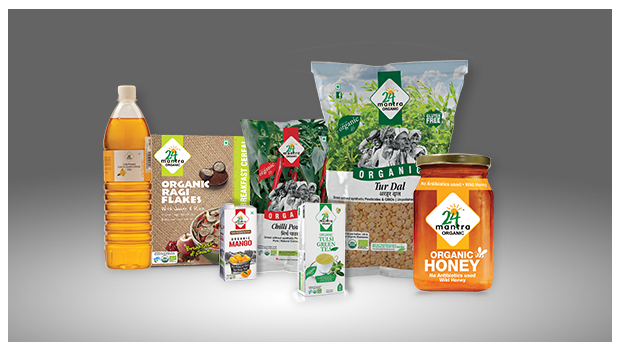 Going organic with your food habits is not a mere lifestyle but certainly a habit that slowly and steadily needs to evolve as a practice. Put simply, Organic is a way of processing and growing food items with additional reliance on environmental and ecological sustainability. Farmers opting for organic crop-growing techniques refrain from using persistent pesticides and fertilizers that can have negative implications on food, water, and soil quality. Instead, the underlining techniques used by the farmers resist diseases and pest infestations. Needless to say, organic farming techniques are extremely environment friendly and it's time a majority of individuals start including similar products in the household grocery list; thereby slowly making the shift towards a better and cleaner lifestyle.
Why Choose 24 Mantra?
Every organic product synonymous to 24 Mantra goes through a stringent certification process before entering stores. The EC 834/2007 certification standard followed by Indian NPOP and US NOP authorizations further add to the credibility of this organic production house. In the next few sections, we shall look at least 7 products from 24 Mantra that immediately need to make an appearance in your pantry, strictly on psychological, sustainable, and health-specific grounds.
However, before starting this discussion we need to understand that food items are supposed to be imperfect and it's in the best interest of the consumer that companies supplying them adhere to the organic standards and try cutting off artificial intermediaries in the process of providing supplies.
It wouldn't be wrong to say that cereals are household staples and organic variants are probably the best resources to rely on. The extend repertoire of options available at 24 Mantra include brown rice and other types of cereals which are naturally free of gluten and grown without the influence of synthetic fertilizers and pesticides.
Although it's hard to identify genuine organic supplies pertaining to dals and other household essentials, 24 Mantra comes with an extended conglomerate of supplies, especially for the interested customer base. The likes of Pancharatna Dal offer the best set of options by achieving the perfect balance between taste and health. Moreover, it is a must have in pantries that specifically focus on cooking mixed dosa, khichdi, and similar delicacies.
Most recipes taste bland and incomplete without the perfect addition of spices. 24 Mantra offers the best varieties of spices which are manufactured without adulterants and chemical fillers. The purest form of spices, if and when grown in accordance with the purity standards are enriched with aromas, oils, antioxidants, and obviously flavors. The most sought after choices include turmeric powder, cumin powder, mustard variants, and many more.
Specific varieties of organic oils are best purchased at 24 Mantra courtesy the excellent set of manufacturing guidelines in place. The most recommended option would be the cold-pressed groundnut oil whose organic variant is pretty hard to procure.
Nothing beats the efficacy of organic tea, especially when the traditional nuances, flavonoids, and antioxidant levels are taken care of. An individual can opt for Tulsi, Ginger, and other varieties of organic teas, exhaustively listed at 24 Mantra.
Organic honey is probably the most sought after pantry choice courtesy the myriad health benefits associated with the same. 24 Mantra offers the best organic honey selections which are naturally micro-filtered and supplied without sugary fillers.  We would specially recommend the Himalayan multi-flower honey as it's free of antibiotics.
If you have ever tried organic juices, it's time to check the extensive catalogue at 24 Mantra. The organic orange juice and a few other varieties are created naturally and are free of chemical fillers and any form of pesticides.
While the list of pantry-specific items can go on and on, it's advisable to make prudent choices before purchasing products from unauthentic stores. 24 Mantra is a one stop solutions that offers a wide-range of credible choices for the customers to work with.