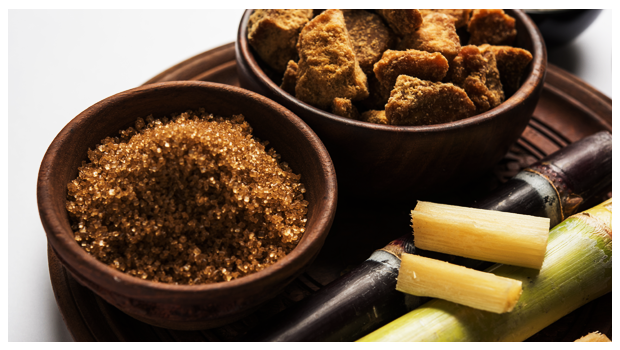 Jaggery is one of the most popular natural detoxifiers available in the market. It is helpful in keeping diabetes at bay. It effectively cleans the body and removes the unwanted toxins. Jaggery can be included in your daily diet in the form of jaggery powder. It is advised that you include jaggery or jaggery powder in your everyday diet. It is easy to include jaggery powder since it can be easily mixed with milk or tea!
Health benefits of jaggery powder:
Relieves constipation
Jaggery powder clears out the digestive enzymes in the body, boosts bowel movements thereby helping with constipation problems.
Works wonders with liver detox
Jaggery powder flushes out the harmful toxins out of the body. Biting into a piece of jaggery is the best way to detox the liver and the body!
Cures flu symptoms
Mix some jaggery powder with warm water, drink it and you'll feel instantly relieved if you're suffering from a cold. Another alternative is to add jaggery powder into your tea instead of sugar.
Purifies the blood
Jaggery powder is popular mainly because of its ability to purify and cleanse the blood. If consumed regularly it works wonders in transforming your body!
Improves your immunity system
The high antioxidant content coupled with minerals such as selenium and zinc makes jaggery powder perfect to prevent infections and curb free-radical damage. It is also known to boost the hemoglobin count in the body.
Helps relieve menstrual pain
According to research, jaggery is a natural treatment for both menstrual cramps and mood swings because of its high nutrient content. Consuming jaggery powder daily helps fight symptoms of PMS by releasing endorphins into the body.
Helps prevent anemia
Being rich in folate and iron, jaggery ensures a normal level of blood cells thereby preventing anemia. This makes jaggery powder great for pregnant women.
Keeps intestinal health on track
The high magnesium content in jaggery powder boosts intestinal health. Every 10 gm of jaggery has 16 mg of magnesium which covers 4 % of the daily magnesium requirement of the body.
Cools the stomach
Jaggery is a great way to maintain and regulate body temperature thereby keeping the stomach cool. Drinking jaggery sherbet during the summer months helps regulate the body temperature.
Regulates blood pressure
The potassium and sodium content helps maintain proper acid levels in the body. This helps to keep the blood pressure in check.
Prevents respiratory problems
Respiratory problems such as bronchitis and asthma can be kept at bay by consuming jaggery on a daily basis. It helps in reducing symptoms such as coughing and wheezing.
Eases joint pain
Eating jaggery with a dash of ginger helps strengthen the bones and relieve joint pain. Drinking a glass of milk with jaggery every day has the same effect.
Aids weight loss
Jaggery has a high content of potassium which aids muscle growth. It also prevents water retention which in turn helps reduce bloating. Not just that replacing sugar with jaggery in your daily diet, will automatically help you lose weight. Jaggery being a natural detoxifier will not only add a ton of health benefits to your body but also neutralize the damage done by refined sugar. However, jaggery alone cannot work miracles. It can only boost the weight loss process provided it's combined with exercise and a healthy diet.
Apart from the benefits mentioned above, jaggery powder is also a great way to boost energy levels. Sugar is a simple carbohydrate which gets absorbed quickly into the bloodstream giving little or no energy. However, the complex carbohydrates in jaggery sustain the body for a long time and help prevent fatigue.