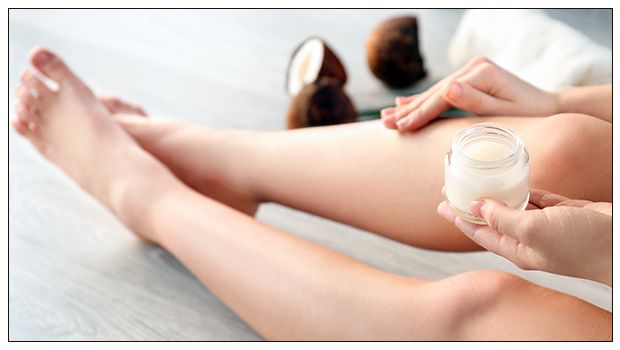 Coconut oil doesn't just enhance your food but also acts as excellent nourishment to your hair when we gently massaged on the scalp. Apart from being good for the hair and health, it has exceptional beauty benefits that can be derived from using coconut oil on the skin.
This thick oil possesses moisturizing and anti-inflammatory properties, which does wonders to the skin in terms of softness and shine. Although not widely known as being beneficial for the skin, coconut oil beautifies the skin by preventing acne and also moisturizing the surface.
Here are some ways in which coconut oil proves to be great for your skin:
Eradicate microbes from the skin: Coconut oil is enriched with medium-chain fatty acids like lauric acid, myristic acid, caprylic acid, palmitic acid, capric acid, oleic acid, linoleic acid, and stearic acid. This induces antimicrobial properties which can kill harmful germs and microorganisms. Direct application of coconut oil on the skin proves very beneficial and rids the skin of bacteria and fungi.
Acts as a moisturizing agent: The oil has a thick consistency and it is highly recommended to be used not just for dry hair but also dry skin. It can keep the skin hydrated and it is also proved medicinally helpful against the skin disease known as eczema. In the long run, this gives your skin a smooth and soft texture.
Prevents skin inflammation: In contrary to what most might presume, coconut oil can actually prevent the occurrence of boils and inflammation on the skin surface. Being rich in antioxidants, it protects the skin against free radical damage. Hence the application of direct coconut oil on the skin can reduce inflammation by improving the level of antioxidants.
Effective against acne and pimples: Quite clearly coconut oil also proves effective against other recurrent skin problems like acne, pimples, etc. Coconut oil kills the microbes and gives an added layer of protection from oxidative damage.
Heals wounds and cuts: Collagen is one such protein that is required by the body to form clots and rebuild the skin structure. Coconut oil consists of a sufficient amount of collagen, which aids the body to heal wounds and recover from injuries. Various studies have shown that coconut oil can heal wounds much faster when applied to the skin.
There is a multitude of benefits of coconut oil for the skin. It acts as a hydrating agent and is essentially anti-bacterial and antifungal. Thus the use of coconut oil can eliminate blemishes or blotches on the face. For best results, one can dab it to their face, neck, chest and other dry areas of their body and leave it overnight. This will moisturize your skin and give you a glow that you have always wished for.