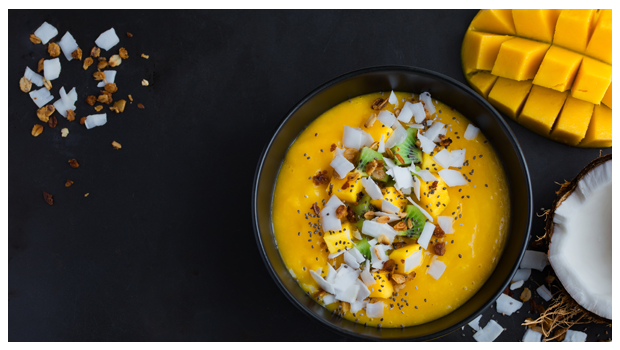 Summer is upon us and one thing we are all constantly on the lookout for is freshness. It is indeed hard to find, amidst all the heat, dust and humidity. But despair not – because your food is as fresh as you make it! There are some ingredients you can use to make the perfect plate of summer food that will quench your thirst for freshness. These include fruits, leafy greens, lightly-cooked proteins and meats, vegetables, etc. The goodness factor is all the more upped if you use fresh produce, grown using organic methods.
Organic farming does not use synthetic pesticides and artificial fertilizers, instead opts for natural manure. It also avoids artificial colours, adulterants, hormones, antibiotics. The food thus produced is checked and graded by regulatory bodies. The label, therefore, becomes very important.
Here are some refreshing organic recipes you can enjoy this summer:
Cucumber and tomato yoghurt salad
The name itself sounds tantalisingly fresh! This delicious organic recipe only requires fresh cucumber, tomatoes, red onion, black pepper, cumin powder, salt, plain yoghurt, and fresh coriander. Add the vegetables in a bowl, mix the salt and spice into the yoghurt, and then mix the two. Make sure the vegetables are well-coated with the yoghurt mixture. Your bowl of health and freshness is ready!
Sweet tea popsicle
The best thing about this recipe is that it is irresistible, which is rarely found in combination with good health! Who can refuse a sweet popsicle on a hot day? All you have to do is make some hot tea using two organic black tea bags, stir in organic sugar (about half a cup), and stir in fresh lemon juice once it cools to room temperature. Then pour the mixture into popsicle moulds and freeze for four hours, and you're good to go!
The school lunch box
Back to school need not be all that bad with this perfect school lunch. Just make slight changes to your regular shopping list: buy organic. Go for organic peanut butter which is not loaded with artificial ingredients. It just contains peanut, salt and other natural ingredients. Next comes organic jelly or jam with real cane sugar and actual fruit. Club these with organic whole wheat bread and you have the much-loved PB&J sandwich! Other additions can be organic cheese sticks and whole fruit.
Mango turmeric smoothie
What's summer without the king of fruits? The ingredients include frozen mango and pineapple, juiced lime, banana, coconut milk, organic cinnamon, and organic ground turmeric root. Blend all of them together for half a minute or until it is smooth. Top it with coconut flakes and your smoothie is ready.
Roasted carrots with honey ginger glaze
Drizzle thin organic carrots with olive oil and bake for about 45 minutes, until tender. In a saucepan, mix olive oil, honey, ginger, water, lemon juice, and parsley. Cook until the sauce thickens and remove from the heat. Coat the cooked carrots with this sauce and sprinkle some salt to taste.
Not only are these recipes tasty, but also very healthy. This summer, don't let the heat get to you – beat it back with these fresh organic recipes! 24 Mantra offers a wide range of organic products, know more here: https://www.24mantra.com/