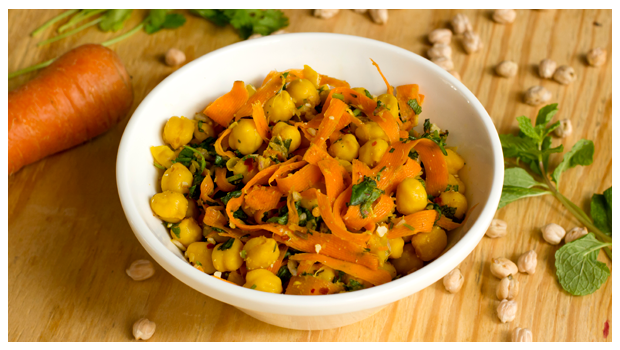 Give a break to the usual spicy treats like chole kulche/ bhature, ragda patties, and chana masala and try something healthy with kabuli chana. There's a delicious way to use organic kabuli chana for preparing your next lunch meal.
We've added the rich flavours of quinoa to organic Kabuli Chana (chickpea) to create the perfect lunch treat for you.
Preparation Time: 20-30 minutes
Cooking Time: 20-30 minutes 
Serves: 2
Taste: Medium Spicy
Ingredients:  
Cooked Chickpea
1 ½ Cups
Quinoa
1 Cup
Finely Chopped Spinach
1 Cup
Cucumber (Finely Chopped)
1 Cup
Cherry Tomatoes (Diced in Half)
½ Cup
Chopped Green Onions
½ Cup
Pumpkin Seeds
½ Cup
 For Dressing
Olive Oil
¼ Cup
Lemon Juice
2 Tablespoons
Clove Garlic (Minced)
1
Salt
1 Tablespoon
Black Pepper
To taste
Recipe 
Add 2 cups of water to rinsed quinoa and cook for 15 minutes. Gently reduce the heat as the mixture starts to simmer. Cook until quinoa absorbs all the water. Once done, remove the pan from heat, cover the lid, and let it rest for 5-10 minutes.
Roast the pumpkin seeds in a separate pan. Keep stirring and transfer it to a bowl when the seeds start giving a distinct aroma. Let it cool.
For dressing: Mix olive oil, lemon juice, salt, black pepper, and garlic in a small bowl. Taste and add more salt or pepper if required.
Once all the preparation is done, and quinoa and chickpeas are ready, take a big bowl. Add quinoa, chickpeas, spinach, cucumber, cherry tomatoes, green onions, and pumpkin seeds to it and mix well. Add the salad dressing to the mixture and toss it well.
Serve immediately or refrigerate for later use.
You can also dress the salad with diced avocado or feta. The salad goes well with almost anything, so turn on your creative streak and add your favourite veggies or cheese to it. And the next time you want to try something different and healthy for lunch, you'll have a trump recipe up your sleeve.
Explore 200+ tasty and nutritious ways in which 24 Mantra can help you lead a healthier lifestyle. Choose organic, choose healthy!