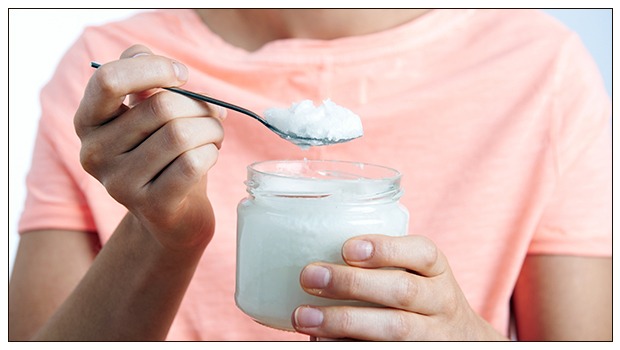 Coconut oil is replete with several benefits for health. It is known to boost the body's metabolism, curb our appetite thereby promoting weight loss and increasing the level of good cholesterol (HDL). However, most people lack knowledge about the amount of coconut oil that is healthy for consumption on a daily basis. At the end of the day, it is oil; hence the consumption should be kept in check. In this article, we will talk about how to use coconut oil in their daily food preparations and how much one can consume per day, without harming their health.
WAYS OF EATING COCONUT OIL
There are several ways in which one can eat coconut oil and make it a part of their diet. The following are some of the food recipes that one can try with coconut oil.
Frying or roasting: Since coconut oil has a high smoking point it can be safely used to fry and cook vegetables. Add a few spoonfuls of coconut oil and once it heats, one can stir fry vegetables and even lean meats to prepare amazing dishes. One may coat vegetables in melted coconut oil before seasoning and roasting it further.
Making chocolate: Coconut oil can be used to make a lot of desserts and treats like energy bars, chocolates, etc. It enhances the taste because of its distinct smell and flavor. It acts as a great substitute for butter and oil, thus one can experiment with coconut oil for baking purposes too. Many people also mix it with yogurt and oatmeal due to the great benefits of this oil.
Hot and cool beverages: One can add it to tea, coffee and make delicious smoothies using coconut oil. Having your morning coffee with coconut oil or sipping an herbal tea with coconut oil just before going to bed, can be very beneficial for your health. People also add it to hot chocolate to get a distinct taste. Marinating meat in coconut oil is yet another fantastic use of it.
Healthy substitutes for other food items: As it turns out, coconut oil acts as a wonderful substitute for various regularly used items. This way one can incorporate the usage of coconut oil into their life even more. It can be used in place of vegetable oils for cooking and it can replace butter while preparing toasts and muffins. Moreover, coconut oil can be used as a vegetarian substitute for egg in dishes where the egg is used as a binding agent.
RECOMMENDED INTAKE OF COCONUT OIL
There are numerous ways of incorporating coconut oil in our diet to avail the health benefits. It is a wonderful ingredient, nevertheless, every good thing has its own set of limitations. Two tablespoons of coconut oil per day seem to be a health plan when you are using it in your regular food items. Various studies have concluded that 30 ml (2 tablespoons) per day is an optimal amount that can enrich the body with many benefits while keeping the risk of calories at bay.