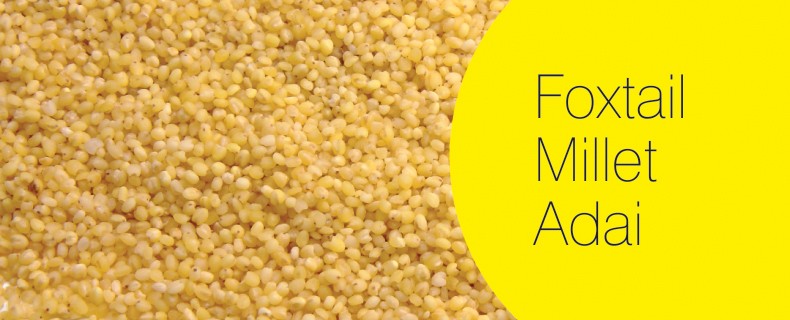 ( Kangni / Korra / Tenai / Navane )
Soak foxtail millet and all the 3 dals (tur dal, channa dal and urad dal) together for 3-4 hours.
Grind it along with salt, red chillies and hing just like you grind for regularadai. The consistency of the batter should neither be thick nor thin. Add grated coconut and mix well.
Heat a tawa, (check by sprinkling water to see if the tawa is hot enough to pour the batter) pour a ladle of adai batter and spread it in a circular motion just as you do for regular adai.
Drizzle a tsp of oil around the adai. Once it is cooked, the corners will start lifting up. Flip it over to the other side. Drizzle another 1/2 tsp of oil and cook well.
Remove from tawa and serve hot with any chutney of your choice. This adai tasted so delicious that it has become a regular feature in my house.
To know more about millet varieties, how to cook millets and health benefits of millet, check this post on Millets
Note – In case if you are going to store the batter, do not add coconut. Add coconut only at the time of making adais.
You can add finely chopped onions to the tinaiadai batter to make it more delicious.